1947
In 1947, following the horrors of the atrocities of the Second World War, a major political event occurred that has had global repercussions for generations. The impact of this event has been felt especially in the Near East. This was the year that Palestine was partitioned and the State of Israel was created.
In another important political development, albeit with more of a cultural impact for the Anglosphere, this was the year that Princess Elizabeth announced her engagement to Philip Mountbatten. After their marriage and Elizabeth's ascension to the throne, Philip became Prince Philip, Duke of Edinburgh.
1947 was also the year that a major political shift occurred in the United States. On the heels of World War II and in the shadow of the developing Cold War, the US took a major step in creating the "national security state" – a major increase in the size and scope of the central government in Washington, DC. This was brought to bear with the National Security Act of 1947, which established what would eventually be called the Department of Defense, established the National Security Council, the Joint Chiefs of Staff, and the Central Intelligence Agency (CIA). The effects of this Act have been felt in the United States and abroad for decades.
News highlights in 1947 were not all politics, though. In a major cultural development in the United States, Jackie Robinson started with the Brooklyn Dodgers, becoming the first black athlete to play in Major League Baseball in the modern era, essentially desegregating professional baseball in the US.
In film, the holiday classic, Miracle on 34th Streetopened in the US and Gentleman's Agreement, starring Gregory Peck, won Best Picture at the Academy Awards.
Finally, in a major literary event, Anne Frank's diary from World War II was published for the first time. The diary was initially published in Amsterdam and then became an international classic, read by generations of students across the world.
Discover how the world looked like in 1947
Looking for 1947 Calendar ? Here it is: January 1947, February 1947, March 1947, April 1947, May 1947, June 1947, July 1947, August 1947, September 1947, October 1947, November 1947, December 1947

Oscar Winners
All Academy Awards Prize winners of the 20th edition of the Oscar ceremony
---
Best picture
Gentleman's Agreement
Best actress
Loretta Young
Best supporting actor
Edmund Gwenn
Best supporting actress
Celeste Holm

Time Person of the Year
Who was the person of the year of 1947?
--- Nobel Prizes
All Nobel Prize winners of 1947
---
Peace Prize
Friends Service Council
American Friends Service Committee
Physiology or Medicine
Carl Ferdinand Cori
Gerty Cori
Bernardo Houssay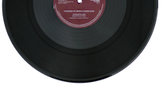 Music charts
Which were the top hits of 1947?
---
Movies
Which were the most popular Movies released in those months?
Watch popular movies, TV series and live events, start your 30-day free trial
Historical Events
Which were the important events of 1947?
---